Eco Council 2017 -2018
Eco Council – 2017/2018
Each class in Key Stage 2 were invited to elect a council member who would help to look at the way the school can become more environmentally friendly and bring about small changes within our school.
Children were requested to put a short paragraph together detailing why they would be good at being in the Eco School Council and their class members voted anonymously.
The elected members give up part of their lunchtimes to attend meetings and will be discussing a number of issues including;
paper wastage
recycling
helping our local community
looking at ways to help others
how to make our school a greener school
the ethics behind Fairtrade
All the children have all demonstrated a good knowledge in their applications of what they feel they can do to change things in school and regularly feedback information to their class.
Our Eco Council Members for 2017 – 2018
Churwell Primary School
Eco Code for 2017 – 2018

Churwell Primary School's Eco Code

The 2017/2018 Eco School Council members have formed our school's Eco Code for the coming year and have explained it to each of their classes.   We're obviously going to be very clean and tidy this year!

The Big Outdoor Clean Up! (November 2017)

At a recent Eco Council meeting, the children wanted to give the front of school a bit of a makeover.  Sarah and Ella wrote to Mrs Barson asking if Eco Council could have small amount of money to buy some new plants if the group promised to work hard at tidying it up.  Mrs Barson kindly agreed and Joe, Payton and Grace enjoyed an hour out in the fresh air starting the tidy up.  It looks super – well done!
Acorn Planting in November 2016 with Churwell Environmental Volunteers
We were invited to help maintain the local woods by planting acorns with CEV.  The children discovered lots of facts about oak trees, including their latin names and how to identify them from leaves.  They also enjoyed discovering the secret of how old the woods were by counting the rings on sawn down trunks.  The oldest tree trunk they found was approximately 34 years old!  They are looking forward to going back to check if the acorns they palnted have have grown next year (if they can remember where they have planted them!)
Exercise Book Recycling Sale 2017
We had accumulated lots and lots of exercise books that we no longer needed or used in school, so our Eco Council members decided to sell them to make room in the cupboards.  This also meant they they were being recycled and reused, rather than just thrown away.
They planned the sale during their lunchtime meetings, and then sorted the books into packs of 4.  Posters were then created and displayed around school to promote the sale.
The demand for our books was quite overwhelming, and we hope there weren't too many disappointed prospective purchasers as we sold out in just over 10 minutes!
Thank you to those who did purchase the books, we raised over £40 which Eco Council plan to use in and around school.
Their first purchase was £10 worth of bird seed which was donated to Churwell Environmental Volunteers as a thank you for their help with our Birdwatch this year.
RSPB Big Schools' Bird Watch 2017 in Daffil Woods
On Wednesday 8th February, Eco Council members were joined by some of their buddies and other, younger members of our school to spend an hour 'bird watching'.  Last year, we did the birdwatch in our school grounds, however this year we hoped to see more birds in Daffil Woods.
Mrs Hassall, John, Janet and Steve (from Churwell Environmental Volunteers) along with two of our governors (Mr Webber and Mr Sutton) helped the children to spot the birds that were enjoying the freedom of our local woods.
This year, the weather was much better and in addition to having great fun out in the fresh air, we saw lots and lots of birds.
The results of our watch have been collected and sent in to the RSPB. This is what the children saw;
Blackbird 13
House sparrow 10
Wood pigeon 4
Black headed gull 2
Great tit 4
Magpie 5
Wren 1
Blue tit 5
Robin 10
Carrion crow 5
Green Finch 4
Pied wagtail 2
Chaffinch 2
Dunnock 3
Starling 2
Long tailed tit 4
Coal tit 2
Green finch 4
We all got rather muddy, but still enjoyed presenting the volunteers with lots of different bird food that we bought using money from our recycled exercise book sale the week before.
When we got back to school, everyone had a go at making a pompom robin to take away as a memory of our afternoon.
Some members of our Eco Council have written little reports to send to Janet and Steve to say thank you for all their help.
Why not have a try at bird watching at home?  You can use the sheet below to identify the different birds.
Fairtrade Break March 6th 2017.
Eco School Council have been planning an event to coincide with Fairtrade Fortnight, which this year runs between Monday 27th February – Sunday 12th March.  This year the theme is 'Fairtrade Breaks'.
Eco Council will be helping children in their class understand what Fairtrade means, and each class will be learning about the ethics behind it, along with understanding why breaks are important to our physical and mental heath.
Children from FS2 upwards were able to preorder a carton of orange juice for a no profit cost of 50p to enjoy at breaktime on Monday 6th March.
Eco Council members helped Mrs Hassall to make sure that those children who had ordered a juice all got one, which was quite hard work as the trays of juice were quite heavy!
Feedback from most children was that they enjoyed having a fruity drink at breaktime, and that it was a great idea.  It tasted even better knowing that the orange farmers in Brazil had been paid a fair wage for working so hard to grow the juicy oranges.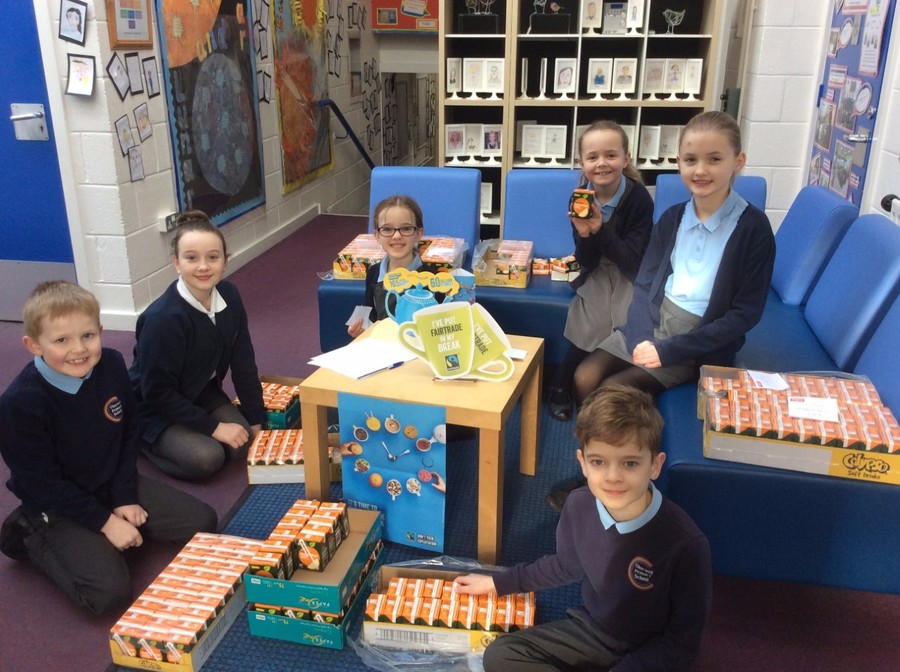 Fairtrade Breakfast March 2016
To mark the end of Fairtrade Fortnight, Eco Council sent invitations to members of our local and school community to come and try a Fairtrade breakfast in our Food technology room.
With the help of Mrs Pollard, they made breakfast banana muffins, and then joined our visitors in sampling different foods.  They enjoyed Fairtrade hot chocolate, croissants, Fairtrade oranges, Fairtrade bananas, in addition to the muffins.  The adults also enjoyed Fairtrade tea and coffee.
The most popular item on the tasting menu was the Fairtrade chocolate, and we all learnt how to taste it correctly by using our senses to smell, look, listen (to it's snap) and finally taste it!
Our visitors were really impressed with the Learning Log homework that 6CW had been doing and were also interested to find out what the Eco Council had been doing recently both in and out of school.  A map of the world was also used to find out where different Fairtrade goods came from.
What a lovely way to start the week!
Clean for the Queen
'Clean for The Queen' is a campaign to clear up Britain in time for Her Majesty the Queen's 90th birthday, which will be officially celebrated in June 2016.
When she came to the throne litter was not the problem that it is today. Food packaging, plastic bottles, takeaway meals and cigarette stubs have all contributed to a growing menace that affects our wildlife, streets, countryside and sense of pride. What better way could we show our gratitude to Her Majesty than to clean up our country?
The 'Clean for The Queen' weekend is on March 4th, 5th and 6th 2016, so that our country can look it's best in time for her official birthday in June.
Eco Council will be taking part in a clean up event around school and our local area on Thursday 3rd March.
In the meantime children from our school are being encouraged by their Eco Council representative to design an anti-littering poster to enter into a competition.  The winner from the nationwide competition will have their poster used all over the UK.  The closing date for handing in the posters to school is Monday 8th February.

Clean for the Queen Update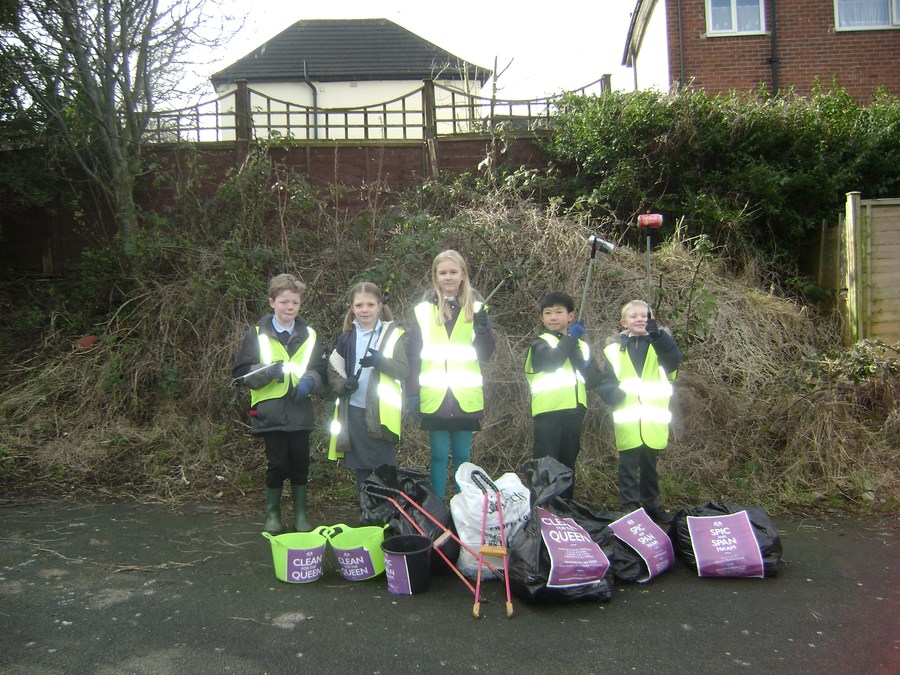 Clean for the Queen Classroom Competition

The competition is hotting up between the classes in school to see who will win the prize for the most transformed grot spot.
Classes have been nominating their worst area and undertaking to make it less of an eyesore, after all, you never know who may visit …
Year 5 area – well done 5NPo and 5HL/HA, from grot spot to hot spot!  What a transformation!
Year 6 area – well done 6CW, what a lovely clean and tidy art cupboard!
In her Year 6 area, Mrs Hickes has pulled out all the stops taking the task really seriously.  Just look how tidy her cupboard is.  Wow!
In Year 1, Miss James was glad to have some very helpful children to tidy up their cloakroom.  Just look at the difference their help has made.  Well done 1SJ!
Miss Walker decided her sink area was looking a little cluttered, so with a little help it was quickly made to look super tidy once again.
Recycle more paper please…..
… was the plea from Miss Whittle after her return from India.  She was amazed at the different ways in which children and staff in the school in Chennai reused their paper.
Our Eco Council have agreed that we waste far too much paper, and are determined to encourage staff and children in our own school to reuse more paper.
They have begun by volunteering to train their teachers and all other staff in the process of photocopying onto the back of already used paper.
Stamp Competition – results are in!
Years 1 to 6 have been collecting stamps to send to the RNIB to help raise money for people with sight loss.  We all thought the run up to Christmas would be a great time to do this as we all get much more post at this time of the year!  Thank you to everyone who donated, we collected 565g in stamps in about four weeks.  The winners were 3LD who collected an amazing 428g of stamps, and the Year Two group.

Energy Use in KS2

Our Year 4 Eco Council members are helping to keep KS2 on track with their energy use.  They have noticed that we are leaving lights, whiteboards and projectors on when we have left the classrooms for other lessons such as P.E. or I.C.T.  They are going to keep a close eye on our energy use each week  using our 'OWL monitor' and log it in a book and record the information on a Bar Graph.
The Eco School Council held a

Fair trade Fortnight

competition and children from throughout our school were invited to submit a triangle piece of bunting.  We had lots of entries, and the Eco Council spent a long time deciding who should win.  Here are some of our winners.
The Eco Council were invited to

plant some oak trees in Daffil Woods

by Churwell Environmental Volunteers.  John from the group explained how in order to keep the wood healthy 25% of the existing trees would need to be chopped down.  We hope that our trees will go someway to replacing these.  The children chose their own planting area and have put in tree labels – keep an eye out for them if you go down there for a walk.  They also looked at the railway extension, which is currently in progress, and helped plant some bluebells and geraniums at it's station.  See the photographs below.