Viet Nam News

HỘI AN — A project to encourage more people to cycle and help the environment has won a global award.
The 'Establishing Comprehensive Bicycle Plan and Free/low-cost Bicycle Sharing Programme in Hội An city' project scooped the Global Urban Mobility Challenge Award of the Transformative Urban Mobility Initiative.
Head of the city's Culture and Information Office, Nguyễn Văn Lanh said the project, which was proposed by HeathBridge Việt Nam and the city with funding from German development agency (GIZ), will pick up the prize at an official ceremony for the 10 winning proposals in Leipzig, Germany on May 22-25th.
Lanh said the scheme aims to build up a master plan of 'green' and sustainable traffic development with two focuses on road traffic safety and community heath.
He said the project plans to launch the first free and low-cost bicycle for lease in the Public-Private Partnership co-operation and sharing with current similar services at hotels and resorts in Hội An.
The project also includes the development of a safe infrastructure for bicycle riders, offering opportunities for residents and tourists to cycle easier.
The city also encourages local people and tourists to leave cars and buses while traveling in the city and nearby destinations.
Hội An, the UNESCO-recognised world heritage site, is the first city in Việt Nam to organise a Car-free Day programme.
Since 2002, the city set up several streets for pedestrian and non-engine vehicles to reduce noise and ensure people's safety in the old quarter.
Last year, public battery-powered car routes were launched as a pilot scheme to boost environment-friendly public transport in the tourism hub of central Việt Nam.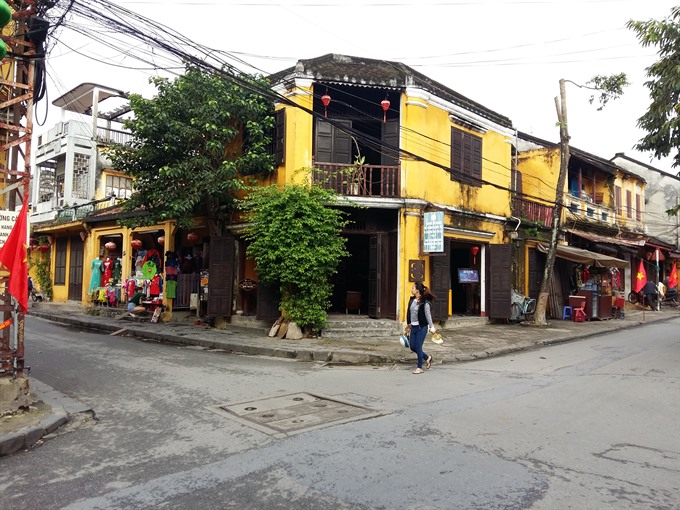 A pedestrian area in the old quarter of Hội An, an UNESCO-recognised world heritage site. Engine vehicle is banned several hours in day time and almost night time. — VNS Photo Công Thành
The city also plans to provide 100,000 bicycles for residents in order to become the first eco-city in Việt Nam.
Bicycles are the favoured mode of transport for tourists, local women and children visiting destinations of the city, suburb and beaches.
The UNESCO-recognised world heritage city has launched a solar-power system for public lighting, loud-speakers and lanterns in the old quarter of the city.
In 2013, in co-operation with UNESCO and the Korean International Co-operation Agency (KOICA), it also debuted a solar power system at Hoài River Square and Chàm Island.
In 2016, Hội An, and Naha City, the capital of Okinawa Prefecture, agreed to develop Hội An into the first eco-city in Việt Nam.
It has also been praised for its efforts to ban plastic bags and for its 3R (reduce, re-use and recycle) programme.
In 2015, it began the first trial of a public van route with funding from the Japan Fund for Global Environment.
Hội An was chosen for the 2013 Townscape Award by the UN-Habitat Regional Office in Asia, while the city's Hoài River and its channels featured in the list of the 10 most-famous canals in the world by the US-based travel website
www.touropia.com
in 2014.
Covering an area of 60sq.km, the tourism hub has now has 22.5sq.km covered with farms and forests and 11sq.km filled with lakes and channels.
Hội An welcomed more than 2.5 million foreigners last year. — VNS